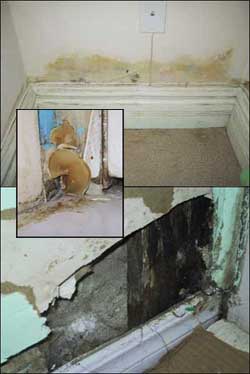 Although dealing with the obvious surface issues such as downpipes, eavestrough's, window wells, grading etc., are the first steps recommended and the ones which are most commonly used, these only mask the symptoms temporarily rather than dealing with the root of the problem. Common sense dictates that you never want water ponding or pooling on the surface against the outside walls, but if it did, it shouldn't end up in your basement. If water or excessive dampness is entering through your basement foundation walls or at the footing level, then you have a serious foundation problem. Foundation waterproofing and restoration of your walls below grade with the installation of a new weeping tile system is really your only proper and long-term solution.
Please remember that unlike in previous generations, basements are now being used as living space rather than just storage or utility space. Basements have become an integral part of homes as they provide much needed and relatively affordable living space unlike additions, which can be cost prohibitive. Therefore, steps need to be taken in order to protect your basement environment as you would the upper floors of your home, should it have a leaky roof. Keep in mind, foundations are what support a house and are vital to its structural integrity.
Unfortunately they have long been neglected, as it was accepted that the basement was a dark, gloomy and musty place. Fortunately, with today's innovative building materials and advanced waterproofing systems, Watertite can offer homeowners a dry basement that will protect your existing finished space or allow you to safely create new living space such as a playroom, office or recreation room without the fear that your new finishes will be water damaged and potentially ruined by mould. Waterproofing your home will give you piece of mind knowing that you have a dry, healthy, livable basement area and at the same time you have extended the longevity and integrity of your foundation walls for many years to come.
Call Watertite for a free consultation before you decide to finish your basement area or if you are experiencing any of the symptoms as outlined in our Do I have a problem section, within your existing finished basement.
Advantages To Waterproofing
Dry and leak free basements
Reduced overall dampness
Help reduce the risk of mould growth
Creates a healthier basement environment
Protects the structural integrity of the foundation
Allows you to confidently renovate, refinish or repair your basement
Creates equity in your home and facilitates resale
Includes a fully written 20-year transferable warranty